ABERFELDY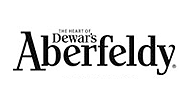 Dewar's flagship distillery, opened in 1898
The only distillery ever built by the Dewar family, 2 miles from John Dewar, the founder's, birth place
Situated in Perthshire, in the Scottish Highlands
Whisky made using the fresh spring water of the Pitilie Burn
Produces the Single Malt Whisky that lies at the heart of Dewar's blends
Provides the signature heather-honey notes of the Dewar's portfolio
Aberfeldy Distillery is the home of the highly-acclaimed Aberfeldy 12 and Aberfeldy 21 single malt Scotch Whisky. The distillery is located where Perthshire's highest mountain, deepest loch, and longest glen meet, and is historically and geographically the 'Heart of Scotland'. Aberfeldy Distillery, founded by the John Dewar & Sons Ltd., was built in 1896 and opened in 1898.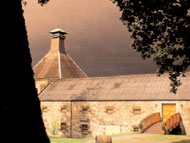 Aberfeldy was constructed at the beginning of the Dewar's expansion just as their brand was becoming reputable worldwide. John A. Dewar, the son of founder John Dewar Sr., realized that to meet the high demands placed on them to supply premium Scotch whisky, they needed to be able to guarantee a single malt whisky of superior quality, and a lot of it.
The only option for the two brothers was to erect a new distillery that could produce the amount of product that they needed. Aberfeldy proved to be a great success for the company and the brand.
Dewar's flagship distillery, opened in 1898
The only distillery ever built by the Dewar family, 2 miles from John Dewar, the founder's, birth place
Situated in Perthshire, in the Scottish Highlands
Whisky made using the fresh spring water of the Pitilie Burn
Produces the Single Malt Whisky that lies at the heart of Dewar's blends
Provides the signature heather-honey notes of the Dewar's portfolio
Loading...
Geen producten gevonden...